Previous Exhibitions
"exotic" 2004
"Passion" 2003
"Yours/Mine/Ours/Theirs" 2003
"Haven" 2003
Recent Exhibition
"exotic reserve"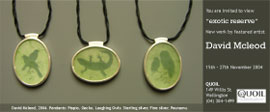 Location: Quoil, 148 Willis St, Wellington
Dates: 15th - 27th November 2004
Following on the successful "exotic?" exhibition with Lynn Kelly at Lure in Dunedin comes a solo show extending on the work that explores the notion that many of our native species now live in an Exotic Reserve.
The show comprises of 14 pendants and 5 reversible brooches. The medium used are Pounamu (New zealand nephrite jade) Australian Cowell Jade, Sterling silver, Fine silver, 18ct yellow gold.